Usually when I go travelling somewhere exotic to shoot I'm travelling by plane. That means I'm limited to 40kg of gear on Jetstar, or 2 x 23kg on Air New Zealand. I then get 7kg in carry on, but that can be closer to 10kg if I smile just right and get the happy person at the counter. I have a cache of lighting gear, tripods and stands in the North Island to make those trips a little easier, but even with that I still have to pack wisely. Usually, the lens I leave behind is the lens I need. That's Murphy's law.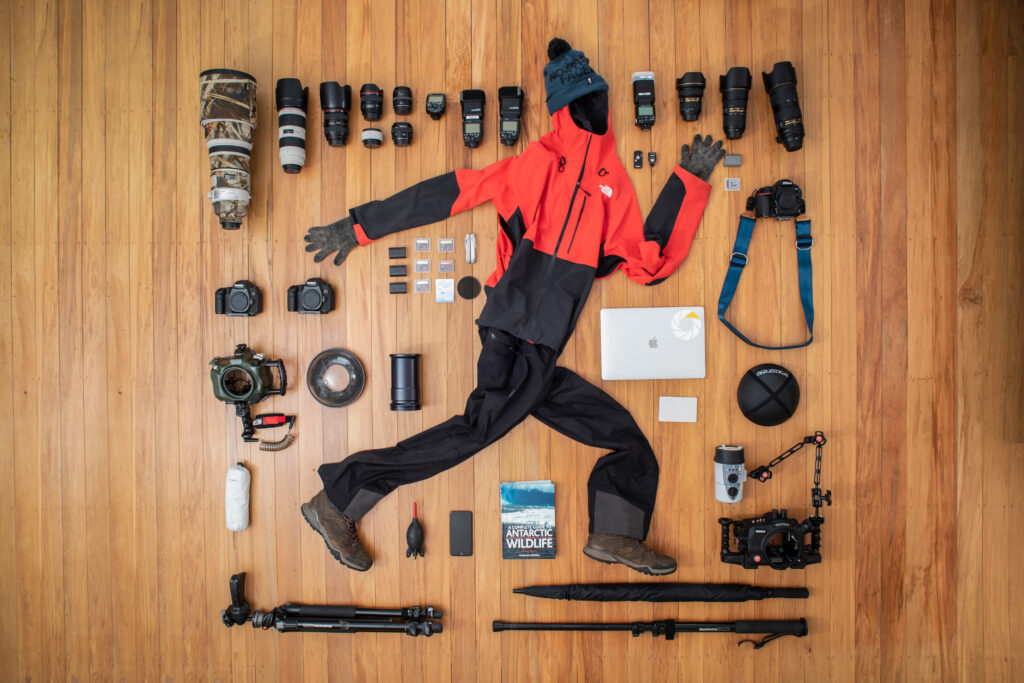 So when it came time to pack for the Subantarctic Islands a few years back I soon learnt that I could take whatever I wanted. We were travelling for 10 days by ship and there was no limit. Well, so I was told. The same person also told me, "it is always better to do something now and ask for forgiveness later".
So with that free reign I packed everything and anything I thought I might possibly need. The shot above gives you some idea: two Canon 5Ds, a Nikon D850, two 24-70mm f2.8s, two 70-200mm f2.8s, a 14mm f2.8L, an 14-24mm f2.8G, a 400mm f2.8L, a 50mm f1.4, 50mm f2.5 Macro and a 1.4EX III extender. Then some lighting with two Canon Speedlites and 1 x Nikon Speedlight and all three with radio control. Then I had two water housings. One Aquatech surface housing with dome port and a 70-200mm port. And an incredible Aqautica R5DMkIII with dome port and Ikelite DS161 strobe (ooh la la, this is one beautiful piece of engineering).
Add in a tripod, monopod and an umbrella, some of the best waterproof clothing available (thanks to our friends at The North Face) and we're ready for some seriously extreme shooting conditions. Of course, we're expecting windchill dipping towards zero and some days of horizontal rain.
In the end I took seven big bags, including my boardbag and dive bag. I had to sprawl out into one of the wet rooms and slept, on the roughest nights at sea, with both feet holding a stack of Pelicases from flying around the cabin.
A friend once told me to put a bit of white paint on anything you don't end up using and next time you travel, leave the white painted items behind. It's great advice. I have a little bit of white paint on my 50mm f2.5 Macro, although I wished I had taken it with me on a couple of the coastal walks. Everything else got used at one stage or another … who would have thought?
Maybe I need to travel by ship more often.